Romantic Holiday Reads
It's been a while since I did one of these, so it's time for another free holiday audiobook listing! This year, I'm focused on rom-com holiday novels. There's nothing like a little romance and comedy to warm me up during the frigid months. While Jack Frost may start nipping at my nose, Cupid is poking the embers of love and stoking the flames of my heart. 
What's better than a romantic holiday read? How about a free one? Or three?!
Thank you for my early Christmas gifts, Audible!
Eight Winter Nights
Written by Liz Maverick
Narrated by Eva Kandinsky and Jason Clarke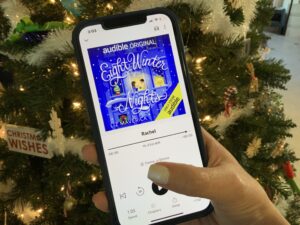 Rachel and Oz have a love at first-sight encounter on the first day of Hanukah. Unfortunately, they let someone intervene and one year later, they're still not together. To make matters stickier, the one who created this love triangle and wedged herself between the couple's happy beginning is Rachel's best friend.
How is Rachel supposed to deal with feelings for her BFF's now ex-boyfriend? And, how is Oz going to accept his attraction to his ex-girlfriend's BFF?
Fate obviously has a hand at righting the rift between these potential lovers, though it almost seems impossible as both Rachel and Oz are decent people who don't want to break the honorable friendship code.
There aren't any sexual scenes in this short story, but there is plenty of heated tension. Depending on what you're looking for, this may or may not leave you satisfied on the romance front, but it fits under the tree as a pleasantly wrapped-up holiday audiobook. 
Snow Day
Written by Julie Lipson
Narrated by Amanda Ronconi and Victor Bevine
(Performance)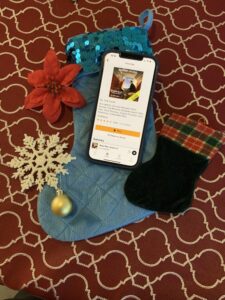 When two strangers meet on a train to Paris, they don't realize that their plans and lives are about to change. Sometimes we meet someone who changes our lives completely in an instant. Or, realistically, we meet someone who changes our lives slowly and convincingly.
Snow Day is driven on the theme that things in life happen for a reason. The story questions the idea of fate and choices. Do we choose our own destiny? Or, is fate to blame for everything? The short answer is yes and yes. The long answer is given by listening to the story of Amy and Martijn. These two may think they're in control of their own destinies, but when fate shows its hand, their outlooks on life and love prove that the answer to their futures isn't a simple summation.
I enjoyed the message and traveling in this book. Visualizing Europe on a train and going through small towns coated with snow is the icing on my Christmas cake. This is a clean sort of romance in a different sense. The story focuses on life and our love to live. I didn't necessarily expect the ending with this book, but I was satisfied with it and recommend giving it a listen for a positive outlook on life.
Nick and Noel's Christmas Playlist
Written by Codi Hall
Narrated by Brooke Bloomingdale and Edward Thomas
If you enjoyed Nick and Nora's Infinite Playlist, then you will enjoy this audible original, Nick and Noel's Christmas Playlist. It is impossible to listen to this audiobook without giving homage to the original story by Rachel Cohn and David Levithan. Though the stories are different, there are HUGE similarities that revolve around the same themes: music, friends becoming lovers, and ex-payback. Honestly, it's unfair to listen to this holiday version without first referencing Cohan's and Levithan's story.
I thought this Christmas romance was a fun holiday read/listen. If the names of the main characters weren't thematic enough, the town's name of Mistletoe may just push it over the edge. But hey, it's a Christmas story, so I didn't mind.
There's plenty of heat to warm you up during these colder nights as Nick and Noel explore their feelings of friendship blossoming into something more. Although there's more left to the imagination, the depiction of a pending romance is enough to light the embers of love. It's pretty obvious the happy direction this story is going to take, but I'm good with that, too. If I didn't have a happy ending, I probably wouldn't have enjoyed the story as a holiday audiobook. 
What Holiday Audiobook are you Listening to?
I love discussing books and there's only so much time to get my holiday reading in. So, what are you reading? What holiday audiobook are you listening to?
I can always use a suggestion for my TBR file and would enjoy hearing some suggestions. I'd even be fine with words of discouragement, if you read a book that you REALLY disliked. I'll know to avoid it in the future.
Happy Holidays!
Get Your Book Reviewed or Have an Interview
The best way to promote books is with book reviews and author interviews. If you're an author and need some free promotion, contact me. I'd love to help you out.
Subscribe for Access to Writing Tips