Writer, Editor, Social Media Manager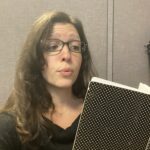 By day, I'm a mild-mannered copy writer. By night, or on long lunch breaks, I'm a passionate creative writer. I strive to grab a reader's attention because I admire the power of words skipping on a page. The words we write can be more powerful than those spoken.
Amelia's Credentials
I have studied literature and creative writing, earning degrees in both fields. My experience includes writing and editing copy for numerous industries. I've also written several contemporary fantasy novels, which I'm seeking representation for.
I am currently part of a small writing critique group and the P2P publishing group, where I gain and give feedback on novels and publishing.
My passions are in publishing and the food and travel industry. But, I have a wide array of interests and I enjoy learning about new subjects and writing practices.
Biographies, newsletters, interviews, blogs, reviews, and social networking are all part of the ever-changing suit that freelancing has dressed me in. Good thing I'm comfortable in all of it. See my portfolio for a better scope of my experience.
Inside the Publishing Industry
Working for an online eBook store, I gained insight as I edited and wrote book reviews for mainstream and independent authors.
Interviewing novelists like Gregory Maguire, Janet Evanovich, Joanne Fluke, and more, was a privilege. I treasure the time I attended the BEA (Book Expo of America) and had brief discussions with famous authors, like Christopher Paolini and David Baldacci (please excuse the name dropping — I'm still star struck).
Improve Your Writing and Reach

---
Ask Me!
---
THE CONTENT ON THIS WEBSITE IS NOT TO BE EDITED OR REUSED UNDER ANY OTHER NAME EXCEPT FOR THE AUTHOR'S – AMELIA ALBANESE. THE CONTENT ON THIS WEBSITE CAN BE SHARED WHEN LINKED BACK TO THIS WEBSITE: AMELIAMA.COM