Successful marketing is made up of varying practices — little things that can seem very intimidating. I'm talking about the small changes you make on your website and social media that make the big difference for your overall brand.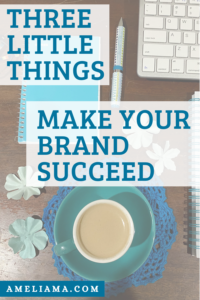 Honestly, it isn't that hard if you have the right people to guide you through the process. I know I'm quoting an overused phrase, but in regards to publishing and branding, it rings true – it's the little things that make the big difference in your brand:
Set Up Your Website the Right Way:
User experience (UX) and message clarity are small alterations that can make you gain or lose subscribers.
Socialize on Social Media:
The right posts can make or break your online presence. You want people to know who you are, so creat your community by chatting up readers. Don't break away from social media just because it's intimidating or new. Learn best practices to improve your followers and engagement.
Have a Team:
Writing is a lonely business at first, but it requires a team to be successful. Every writer needs publishing resources to gives them advice and help make the books available in different mediums.
Create your brand by knowing your industry and marketing in various forms. Take the time to study others in your niche; look at their websites and their social media accounts. Read more to write better content and know what your clients really want from you.
Baby Steps / Little Things
If you're starting out, these "little things" may sound big. But, if you tackle one at a time, each will seem super easy to wrangle. Just put one foot in front of the other.
And, if you stumble or trip along the way, I'll be here to take your hand and give you some balance. Just ask me.
Ask Amelia