June's Freebie Audible Books
My summer reading has begun with some fun and sobering books to start off. As the sun blazes outside and my AC is cranked in the car, this bookworm is super grateful for my audible picks to distract me from the 2 hours driving in the car.
Obviously, I'd rather be relaxing on a beach or tripping the light fantastic at a park of some sort, but at least I still have my free audibles to look forward to while I commute to work. Just another example of How Audiobooks Saved Me and why I love my audible account.
I was pleasantly surprised by the fantasy fiction, and intrigued with sadness by the documentary-like audible books that I selected for May's Audible Freebies.
"Even Tree Nymphs Get the Blues" by Molly Harper
Narrated by Amanda Ronconi and Jonathan Davis
This was a fun modern fantasy with a slight hint of romance. Ingrid is a tree nymph who doesn't trust strangers, and yet she has a desire to feed people the perfect frozen dessert by opening her own creamery. She's had decades to study the sweet, dairy treat, so she's practically an expert. Her presence in a new town grabs everyone's attention, even a town like Blue Bayou that's full of magical, mythical residents, including certain humans, particularly Rob Aspern – a well-intentioned scientist who's falling for the beautiful Ingrid. He can't find the right means to woo her without insulting her, though.
The miscommunication between the varying cultures of mystics mixed with Ingrid's slow acclimation to civilization creates some humorous scenes that actually made me laugh out loud while driving. I've become so enamored with all of the characters that I am now interested in reading the rest of Molly Harper's books. Shame on me for finding the Blue Bayou books so late in the series.
The varying perspectives were an added bonus to this story, augmented by the different points of view by Ingrid and Rob, narrated by Ronconi and Davis. The different voices for the two main character gave a nice touch to the points of view.
I really enjoyed Harper's storytelling. She has great descriptions, keeps good flow and tempo. Her style is just my speed, and kept me racing along, listening so intently that I drove right past my exit on the way home.
Oops.
This short story has made a fan out of me. That's how an author brings in new readers. Let that be a lesson to all authors in book marketing strategy.
"The Dead Drink First"
Written and narrated by Dale Maharidge
This book is definitely best suited for readers who enjoy documentaries and biographies, particularly those interested in the history of the Vietnam war. Dale Maharidge is the son of a Vietnam vet who is on a mission to unravel a mystery after his father's death. Like many veterans, Dale's father was reluctant to share his experiences with his family. Dale searches for answers to the mystery man in a picture of his father's – a man whose face became as common as the family photos on the wall, yet remained nameless.
This audible included real recordings of Dale's interviews with soldiers and their descendants from the Vietnam war. Through his investigation, Dale not only better understands his father's PTSD, but comes to comprehend the effects his father's post trauma had on himself growing up, as well as how it affected other soldiers and their family members.
I'm not a fan of war movies or books because the idea of people killing each other tends to make my stomach turn. However, I still appreciate and believe in the value of learning from history. This book was very insightful on the effects of war, and I learned a lot about PTSD. It provided a good history lesson while providing an explanation for the trauma veterans and their families cope with.
I think it's a great book for any history buff.

July's Freebies
This month's selections are more on the comedic side, albeit more historical, as well. I do enjoy learning about history, though it needs to be in a form that holds my attention, like historical fiction or humor.
Rivals! Frenemies Who Changed the World by Scott McCormick
Narrated by Prentice Onayemi, Samantha Turret, Khristine Hvam, Gabriel Vaughan, Josh Hurley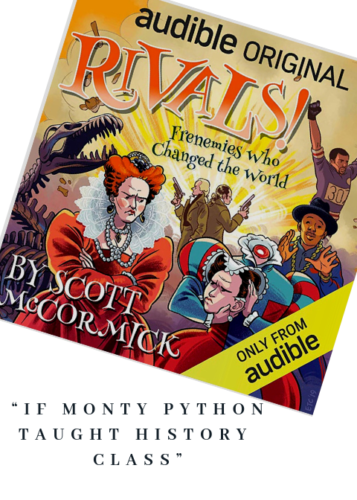 This book is a comedic observation on the rivalries through history that the rest of the world actually benefited from. Once upon a time, queens and scientists were once at war with their arch enemies, and now the rest of civilization can sit back and enjoy the shows that came from their bickering.
Screwball by Simon Rich, narrated by Beck Bennett
This story is said to be a "funny and wistful take" on the young Babe Ruth in the minor leagues. It probably falls under the historical fiction category, since I don't know how much of this story is based on actual events. And, since I'd rather read a book than watch a sporting event, I'm not too knowledgeable on the background of the Great Bambino.
Both of my audible choices are a step back into history, however they both claim to be jovial, laugh-out-loud reads. Hopefully, I will enjoy my selections; I rarely choose the history genre.
I'm crossing my fingers and toes, hoping I will be as entertained as the books' descriptions promise.
Subscribe for more Book Reviews!
Comment below and let me know what you think!