Lee Bacon is an author of mainstream books who writes for young readers – a mix of fantasy and sci-fi themed thrills. His series includes, Legendtopia and The Joshua Dread series, along with several other novels: The Mystery of Alice, The Last Human. His stories have been translated into 23 different languages, earning the recognition of readers of various tongues.
Learn more about Lee Bacon on his author page: http://www.leebaconbooks.com/
INTERVIEW QUESTIONS: AMELIA ALBANESE (AMA)
INTERVIEW ANSWERS: LEE BACON (LB)
AMA:  You've been writing stories and poems since you were kid (according to your website). Did you ever have any other career interests besides writing?
LB: When I was younger, I never dreamed I'd be able to make a living as a writer. I just sort of assumed I'd be a person who worked some kind of office job and then wrote in my free time. In my early twenties, I moved to New York and started working in book publishing. My way of getting as close as possible to the world of books (without actually writing any of them). I did a couple of unpaid internships and eventually found a job as an assistant at a small literary agency. I didn't work in publishing for long, but it was a terrific learning experience.
AMA: Your published stories are based on adventures for young readers. Do you ever plan on publishing a novel for adults? If so, what kinds of adult books would they be?
LB: Yes, I would love to write something for adults one day. I have an idea for something: A novel that blends sci-fi with horror, told by a very unusual narrator. I can't say anything more than that!
AMA: With all of the frustration that comes with being a writer, what made you decide to stick with it? Was there a defining moment that made you realize that this is what you HAD to do?
LB: I definitely understand the frustration. I wrote pretty much every day for ten years without ever getting anything published. But I kept working at it for the same reason I do it now: I love writing. It helps me understand the world, and the people around me, and myself. It's my version of meditation. If at some point, nobody wants to publish my books anymore, that'll be the reason why I keep writing. Because I don't want to live without it.
For me, the defining moment came when I started writing Joshua Dread. It was the first thing I'd ever tried to write for young readers. And something just clicked. The voice, the goofy humor, the sense of adventure and peril. After years of trying to write smarty-pants adult literary fiction, it was liberating and thrilling to go a little wild on the page. It turns out that was the first thing that ever got published. So I guess I was doing something right!
AMA: How do you usually get inspired to write a particular story?
LB: Inspiration can come from a billion different places. Sometimes it's a walk in the woods. Or a vacation. It could be an article or a podcast or a conversation. It might be some combination of experiences. The important thing is to be open to inspiration. To let your mind explore the possibilities of an idea and to write it down as soon as it arrives. Don't stop to Google whether the book already exists. Don't make yourself a sandwich. Run—as fast as you can—to your nearest computer or notebook and start writing!
AMA: What is your favorite book that you've written so far?
LB: I can't play favorites with my own books! I'll say this though: After years of rejection, Joshua Dread was the first thing that anyone ever wanted to publish. The first time I got to see my name in print. The first time I could walk into a bookstore or a library and see the book that I wrote on the shelf. For that reason, it will always be special for me.
AMA: What does your writing process include? Do you have trusted individuals as your sounding boards?
LB: These are the important elements of my writing process: An early morning, a few mugs of green tea, a computer, time alone, and maybe a cat or two. That's how my books are written. Some days are more productive than others, but pretty much all of them involve these things.
My wife is always my first reader. She's just the right combination of supportive and critical. I know I can trust her to give me honest, helpful feedback—without also crushing my spirit!
AMA: Aside from writing, what is your favorite current hobby?
LB: My wife and I had a baby—our first—four months ago. Can a baby be a hobby? Yes, I think so. Our baby is my favorite current hobby.
AMA: What book(s) are you currently reading?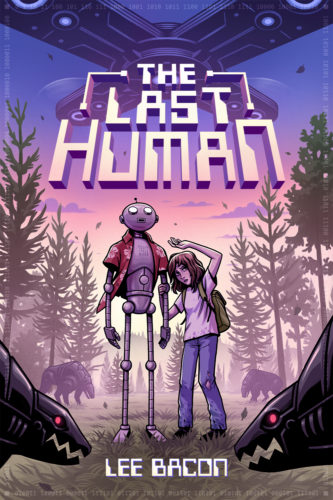 LB: I'm re-reading Gone Girl. I don't really need a reason to return to it—it's one of my favorite books of the past decade—but I picked it back up recently because I'm writing something with two distinct narrators and Gone Girl does a great job of this: telling the story through two compelling and unique voices.
I'm also reading Recursion by Blake Crouch. His last book, Dark Matter, is another of my recent favorites, so I was excited to dive into the new one. So far, it hasn't disappointed. An intelligent and head-spinningly inventive thriller with just the right mix of sci-fi and reality.
AMA: Do you have any projects currently in the works that you are willing to reveal to us?
LB: The book I just mentioned—the one with dual narrators—is still in the early stages, so I should probably keep it under wraps. But I do have a couple of projects that are farther along. My next middle grade novel, The Last Human, is coming out in October, 2019. It takes place in a future in which humans have gone extinct and the world is ruled by robots. It's also narrated by a robot, who is surprised to one day discover a human girl—alive after all these years!
And in other robot-related news…My second Audible Original story is entitled Interview With The Robot. It's more like a radio drama than a novel, with multiple voice actors and sound effects. Here's the basic premise: A twelve-year-old girl is arrested for shoplifting. During her interview with an official from Child Welfare Services, she reveals the shocking truth about her identity: Although she looks just like a normal girl, she's actually a robot. During her interrogation, she reveals the unbelievable story of where she came from and how she ended up in a police station, far from the computer lab she once called home.
I don't know when Interview With The Robot will come out, but it will be available exclusively from Audible.
AMA: What do you enjoy most about being an author?
LB: Turning creativity into my job!
AMA: What is your biggest struggle as an author?
LB: Turning creativity into my job!
AMA: What is your greatest accomplishment as an author?
LB: At the time that my first book was published, just the thought of public speaking made my palms sweat. I've always been nervous about talking in front of large groups of people. But once my book came out, I knew I would need to take part in bookstore events and school visits. I would need to face my anxiety. It wasn't easy at first, but that's what I did. Since then, I've gone in front of hundreds of groups to talk about my books and my path to becoming a writer. These days, I'm a lot more comfortable with public speaking. The process of getting to this point—I would consider that my greatest accomplishment.
AMA: What advice would you give to writers struggling to get published the first time?
LB: Find a group of fellow writers with whom you can share your work. Either in real life or online. This is a terrific way to get honest feedback on your writing. And reading other people's stories can be a very effective way to improve your own writing. You come across techniques that work and—perhaps more importantly—things that don't. You start seeing the same clichés pop up again and again. You learn what mistakes to avoid. This will make you better as a writer. And along the way, you'll gain a support structure of fellow writers.
AMA: What do you hope your readers get out of reading your books? What is your goal for your readers?
LB: I hope they'll get the same thing I get from the books I enjoy. A reading experience that makes them want to turn to the next page. And the page after that. And the page after that. That they'll want to keep reading (or listening), despite the abundance of beeping, blinking distractions all around them.
AMA: If you could ask your readers anything, what would it be?
LB: What was the first book you couldn't put down?
---
If you're a published author, learn other ways to promote your author brand: How to Grow Your Online Presence
Or,
Request an Interview of your own!
Send me a message with your request and let me know a little about yourself. We'll see if we can work something out to promote you and your book(s).