"If the Shoe Fits"
Heaving a great sigh, Angie stared up into her closet, half dressed. A chocolate brown pencil skirt rested on her hips where her fingertips maintained a continuous tap from pinky to forefinger. Her bare copper arms were beginning to grow goose bumps since she was only wearing a light white camisole.
With her head cocked to one side, her auburn waves slid just passed her shoulder.  She had a slight squint to her eyes as she shifted her gaze back and forth, scanning the rectangular boxes stacked on top of each other. The pictures and descriptions on the sides of the containers not only predicted the type of outfit they would match with, but the kind of day Angie would be having.
Black high heels with a narrowly square heel promised an uncomfortable day of strained calves and sore heels. Not to mention the inevitable re-growth of blisters from the oh-so-cute ankle straps with a lightly stitched leaflet design. But, they would go quite nicely with her new black blazer and the brown pinstripes.
Her open-toed brown stilettos would show off her recent French-tipped pedicure, and would match even better with her chocolate skirt; however the thought of freezing her little piggies in 60 degree weather and having aching heels that throbbed by the end of the day made Angie wince. Knowing she would have to practically hobble her way back up to her apartment after work did not appeal to her.
Dropping her head and rubbing the back of her neck in concentration, Angie swung her head back up to gaze at two other boxes she swore she would never wear to work.
Her black Mary Janes were flat, strapless, and had the subtlest form of cushion inside the heel.  They stared back at her with the promise of little strain and ease walking up and down the flights of stairs in her apartment.
Then there were her relatively flat coffee-colored boots that had a slight shimmery finish to the material. True they didn't seem quite as sexy as the others, but the ever so slight heel and shine of the material almost made them look suitable for work… almost.
A slight smile twitched the corner of Angie's perfectly plump lips as she envisioned being able to walk with comfort all day. That smile was wiped completely clean as she gazed at her wardrobe for work clothes.
Flats did not compliment her skirts or dress pants. And at 5' 3", Angie wanted all the height she could get. It was her one complaint about her body's characteristics.
She was proud of her heart-shaped faced with delicate features and big blue eyes. She confidently showed off her hourglass figure with tops and bottoms that hugged her curves. The stares she earned from strutting down the office hall were proof enough of her perfection. Being gawked at almost felt like a form of respect at the office. She could have done without the cat calls and whistling as she walked past the construction site next to her office building, but that's the price of being beautiful.
After one more run through of her clothes hanging in front of her, Angie remembered that some executives were coming into the office today. Her boss would be calling her into the meeting to provide water bottles and fetch files for everyone. With that in mind, she sighed audibly, ran both of her hands through her hair and grabbed the brown stilettos along with a white long–sleeved button up top.
Dressed and ready for work, Angie walked two blocks to the bus stop and gratefully sat on a hard, yet slightly sticky seat in the back of the bus. Her heels were already starting to burn from the shoes. Angie barely slid one shoe off just enough to look at the back of her foot. It was already reddening and sensitive to her light finger's touch.
She breathed in deeply, shaking her head to herself. Resolving to expect a day of discomfort, Angie removed her left shoe completely to rub her already icy toes. Then she gave her right foot a turn at pampering. Each foot was given a five-minute message to bring feeling back to the numb tootsies.
As the bus came squealing to a stop, Angie grimaced, sliding her feet back into their confinements. Getting off the bus as quickly as possible, she walked 3 blocks more down to her loan office building. On reaching the glass doors, Angie quickly inspected her reflection: hair, shirt, and skirt were smoothed before reaching for the door handle. She awarded her reflection a quick nod of approval as she saw how well her stilettos matched her skirt. Her first step into the building was an immediate reminder of the price of her outfit.
A sharp pinch bit her right pinky toe, creating a wavering in Angie's step.
"OW!" Angie immediately looked down at her shoe, but saw nothing that would explain this new pain. Why was there always one foot worse off than the other?
Trying not to limp her way over to her front desk that was less than ten feet away, Angie leaned one hand on the counter, reaching for her foot with the other hand, as she delicately bent her knee back to look behind her at her shoe.
Neil, from accounting, had just entered the building to observe Angie's accidentally sexy pose. He couldn't help staring from the doorway a moment or two before Angie finally raised her bright blue eyes to his direction.
Jumping slightly at being caught, Neil tried to play off his gaping with a smile and overly zealous, "Good morning, Angela!" He felt foolish with his guilty smile as he walked over to her.
Angie smiled and released her foot. Placating her pain was not an option at work.
"Morning, Neil. How are you today?" Standing to her full height, it was hard for Angie not to wince from the pinch on her toe and the burn on her heels.
"I'm very well, thank you," Neil continued to smile as he walked to her desk to drop some outgoing mail in the designated container.
Even with heels, Angie was still roughly six inches shorter than Neil. Normally, looking up to someone would make her shrink down even further. But, Neil's warm smile with perfect teeth and shining green eyes were so inviting that Angie started to forget her height for once.
Neil's eyes glanced around the office quickly. He looked down at his chest and rubbed the back of his neck before looking up to Angie again.
"Hey, Angela," Neil began. He stretched to his full height, "Are Fridays usually a busy day for you?"
"Not usually," she replied. Leaning her weight on her left foot was beginning to pinch that heel. She inhaled deeply and continued, "…but today there are some hot shots coming in, so I could be running around like crazy." Angela switched the weight to her right foot carefully, testing if that sharp pain would come back. When it didn't, she smiled more easily.
"Of course, it is possible that I won't have anything to do. Sometimes the important meetings don't require my help at all." Angie's pain free moment allowed her to emit a tiny giggle.
Neil smiled larger and gave a small laugh through his nose.
"Well, let's hope they don't have you running ragged, then," he added.
"Yeah, I hope," Angela's thoughts returned back to her feet.
Neil began, "So, do you have any plans tonight?… if you aren't worn out after the meeting, I mean…"
Angela had never heard Neil stutter over his words. She blushed and jumped on what she hoped was an invitation.
"I'm completely free tonight. How about you?" Her words came out so fast, she suddenly worried she made the wrong assumption.
Neil laughed into his chest again, "Yeah, I'm free. Would you like to – "
"Morning, Angela! You have those files I asked you for yesterday? Thompson is gonna want the details on the Jensen loan."
Angela and Neil sighed, gave each other quick smiles, and both mentally noted that they would continue their conversation later. Neil walked to his office while Angela finally went behind her own desk.
"I'll get them to you right away, Ms. Morris," Angie answered. The pinch in Angie's toe returned with a flaming burn as soon as she finished her sentence.
Ms. Morris had barely paused to hear Angie's response, though she did give a brief glance behind her to smile and nod an acknowledgement. Her charcoal dress suit gave a slight shine as she walked past the open windows to her office.
Although Angie was concerned about how the rest of the day would pan out, she was grateful for the brief moment she could sit at her desk's chair while she rifled through the low file cabinets for a folder labeled "Jensen."
---
"Kicking Herself"
Every minute Angie spent on her feet felt like an hour. Ms. Morris was so anxious about the upcoming meeting that she seemed to have a new request for Angie every five minutes.
"Angela, could you call Bill Tang and make sure he brings the stats on Masterson's loans?"
"Do we have enough waters, Angela?"
"Could you double check and make sure that our lunch is being set in the big room?"
Back and forth she went. If Angie did manage to find a moment to sit at her desk and rest her throbbing heels, it was only for a few minutes before she had to stand back up again and try running down the slick slabs of stone that made up the long hallway from Angie's desk to Ms. Morris's office. She lost track of how many times she came close to sliding all the way down the hall on that imitation marble flooring. She was certain that she had twisted her ankle at one point, but was relieved to find that after a good two-minute rub on her ankle and calf, the pain subsided from the abrupt twist.
It was 11:45 in the morning. Over three hours on her feet and Angie finally had a moment to breathe. She hadn't had any more requests from Ms. Morris for the last fifteen minutes, and she honestly could not think of anything else that could possibly be needed for the meeting. Unless her boss decided to move the meeting to Europe or hire a string quartet to play in the background, Angie figured she had a few moments of down-time.
She sighed as she browsed through her e-mails and answered a few phone calls. Letting her feet throb as she sat down was a treat compared to the stabbing pain she felt while walking and standing.
Just as Angie was beginning to forget about her feet, she heard Neil coming down the stairs, whistling. As he approached her desk, Angie jumped from her chair to meet him face to face. Her near shriek was muted to a tiny whimper as she smiled into Neil's big green eyes.
"How's your day been going?" Neil smiled.
Like my feet have been walking through the fires of hell, Angie thought.
"Not too bad, just really busy" she said aloud.
Neil smiled with a half-open mouth. His eyes drifted to the top of the desk as he said, "Well, like I was trying to ask earlier this morning, I was wondering if you would like to join me for dinner, tonight?"
Angie momentarily forgot about her scorching heels and gave a genuine smile. "Where were you thinking of going?" she asked, flipping her head to one side to give her hair a flirtatious fling.
Through smiling teeth, Neil asked, "You like Italian or Thai?"
"Both, actually," Angie batted her eyes in answer. "Though I would like to become more familiar with Thai food.  I've had it once or twice, but would love to get to know it better."
Neil knocked on the desk as he said, "Thai it is. I've been meaning to go to that new restaurant downtown. If you want, we can go to Murphy's for a drink first, it's next door to the restaurant. What time is good for you?"
Angie began to open her mouth when she heard, Ms. Morris's voice.
"Angela! Could I talk to you for a minute?"
Angie rolled her eyes and whispered to herself in a sing song voice, "Be right there."
Turning to Neil she said, "I'll let you know how the day goes and then we can figure on an exact time."
"Sounds good," Neil replied and backed away smiling. He picked up his old tune he was whistling before as he hopped back upstairs. Angie smiled and headed down the hall to Ms. Morris's office.
Leaning though the doorway, Angie asked, "You wanted to see me, Ms. Morris?"
Ms. Morris lifted her black and shiny head of hair, looking up at Angie over her glasses with her mouth agape. She had been staring intently at a folder filled with papers before she heard Angie's voice.
"Yes, Angela. I was just hoping to make sure we have everything set up for the meeting. Chen and Thompson should be arriving within the hour, though they are usually early. I just want to stress how professionally I need this meeting to go."
Angie raised her eyebrows a notch and responded, "Oh, of course, Ms. Morris. Why? Is there something wrong? I thought I had handled everything to the last detail. Did I forget anything?"
"Well," Ms. Morris stood up from her chair, looked Angie up and down quickly, but obviously, and added, "no, I suppose not," she smiled. "You appear put-together," she nodded with approval and turned away.
Angie blinked with an awkward smile. "Uh, thank you, Ms. Morris. I try my best."
"Oh, I know you do," Ms. Morris voice sounded serious. "And it is important to have an assistant who looks professional, you know? Since, obviously, you represent me." Ms. Morris adjusted her fashionably thin Italian tie as she reclaimed her seat.
"Um, yes, I guess, I do," Angie slowly replied.
"Oh, Ms. Morris, you mentioned last week about possibly having Tracy from upstairs to come and help me during your meeting. Did you manage to ask Mr. Taylor if he could spare her for a few hours?"
Ms. Morris's faint smile completely disappeared as she turned her gaze to the table, "Yes, well when I went to Taylor to enquire about Tracy's availability, I was able to take a closer look at the woman… that is, I saw how ragged she wears herself, and I didn't feel comfortable assigning her extra work."
Angie's face dropped with a low, "Oh," in response to Ms. Morris.
"She just doesn't look like the kind of person who would represent me… err, it wouldn't be professional to have two assistants working for me today," Ms. Morris stuttered as she began rifling through some papers on her desk.
"Oh, I see." Angie said slowly. "Uh, was there anything else you needed, Ms. Morris?"
"What?" Ms. Morris almost jumped at the question. "Oh! Oh, no. That will be all. Just let me know when Chen and Jaheed arrive."
"Sure thing," Angie replied.
As Angie slowly walked to down the hall to her desk, she thought about Tracy upstairs. Angie had run into her a few times on the stairs or in the bathroom, and she always seemed like a very pleasant lady. But, then Angie thought of what Ms. Morris said: "not professional." Angie did always note that the middle-aged woman always came in with her messily pinned hair, and that she often wore floral-print pants to match her solid baggy cardigans. There was certainly no clicking when Tracy walked along the imitation marble. If anything, her cork-soled flats sometimes gave a mild squeak as she ambled along the halls.
Just as Angie was trying to determine what she really felt about Ms. Morris slight disgust at Tracy's attire, her heel slipped sideways along the flooring again. Only, this time, her heel stuck in the rough molding between the tiles, causing the heel to twist with a loud SNAP!
Angie caught her hand on the side of the wall for balance and looked down at her left shoe. The heel had broken. She threw her head back and gritted her teeth. Thinking of how many times she came to a near fall because of sliding on those stilettos, Angie considered she may be lucky that she didn't smack her head on the floor with the break.
Hobbling with an awkwardly uneven step, Angie went to her desk, sat down, removed her shoe and examined it more closely. It was a lost cause and she knew it. As she contemplated walking around barefoot for the rest of the day, she heard Ms. Morris's words in her head, "It's not professional."
Then she thought of poor Tracy upstairs. She was a hard worker, always running up and down the stairs between Mr. Taylor and Ms. Morris, just to relay messages. Tracy would have been a big help to Angie during the meeting as Angie set up the slides, grabbed waters, checked on the catered lunch, fetched additional files and returned completed ones from the meeting room. But, no. Ms. Morris was criticizing Tracy based on her looks, and would rather have Angie work herself stupid than have himself look unprofessional by Tracy's appearance.
The back of Angie's right heel continued to throb while her left heel's pain was slowly subsiding. Angie bit her lip and shook her head. "What am I doing?" she scolded herself as she knew her mind was already made up.
Then, she looked at the clock on her desk, estimated the time she had left, and stood up unevenly. Angie turned on her broken heel and headed out of the office. It was barely 12:00 in the afternoon, and the meeting started at 1:00. She had to hurry.
---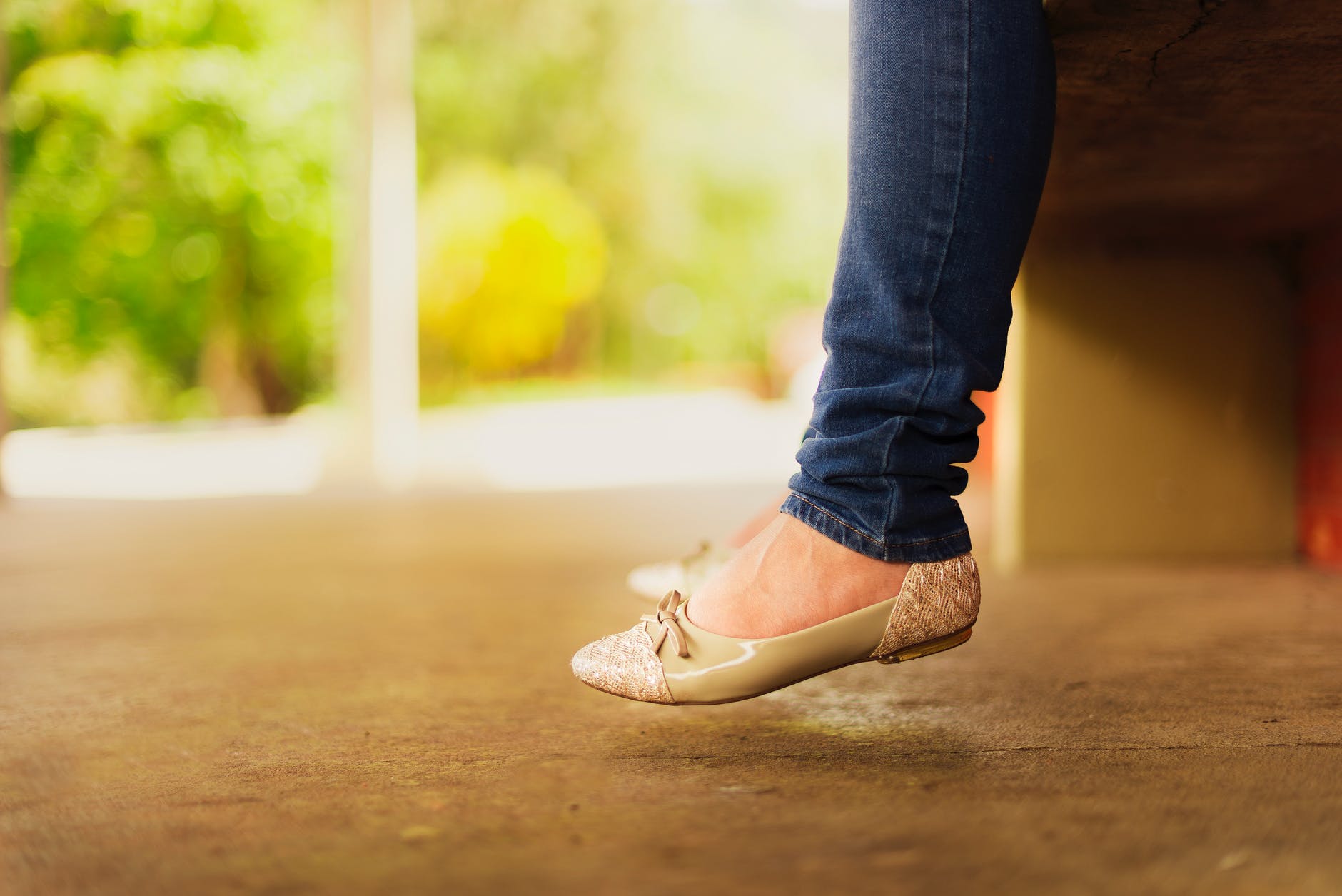 "Putting Her Foot Down"
After warning Ms. Morris that she was going out for her lunch, Angie hobbled out of the building and to the bus stop as quickly as possible. She knew she had to walk fast if she wanted to catch the 12:15 Muni. Luckily, her bus was on schedule, and Angie managed to walk back to her own apartment in record time.
Once back in her place, she threw open her closet and pulled out her black Mary Janes. She could practically hear her feet thank her as she slid off one broken heel and then the one intact. There was slight discomfort on her red and raw heels as she put on the flats, but the soles and toes of her feet felt so relaxed to be on a flat surface that Angie could almost ignore the tenderness on the back of her lower tendon… almost.
Having come this far, still feeling the pang of injustice towards Tracy and her own feet, Angie was motivated to duck under her bathroom sink and look for a couple of small band aids. Slipping off her Mary Janes, she secured one bandage to each of her sensitive heels and sighed relief as she put her flats back on.
No pain.
Feeling lighter on her feet, Angie grabbed a snack bar from the kitchen cabinet on the way back out of her apartment. With her newfound ease in walking, Angie knew she would be able to make the 12:30 bus and be back just in time for Ms. Morris's big meeting.
Well, at least Angie was half right in her assumption.
Angie did manage to get to the bus stop at 12:30. Only, the bus didn't.
12:35 and there was no sign of the bus.
Pacing back and forth didn't hurt, at least, but the worry of getting to the meeting late made Angie feel nauseous. She started wishing she hadn't been so impetuous and had just suffered through with a broken heel.
But then, how professional would that have looked? Hobbling around the meeting room with a broken heel and a limp wasn't going to impress anyone.
Angie looked down at her watch – 12:40. If the bus showed up now, she could still be in time for the meeting. However, she would probably be arriving at the same time as Chen and Jaheed – the early birds. She knew that she wouldn't look too professional in Ms. Morris's eyes, walking through the front doors alongside Ms. Morris' colleagues.
Angie's watch now read 12:45. Her palms began to sweat, which just made her even colder with the 55 degree wind blowing in her face.
The overcast days felt even grayer as time ticked by. Cars rushed passed along the street, probably on their way back to the office after lunch. The tall buildings of downtown loomed in the distance.
If Angie could walk across the freeway to get to her office, she would. Unfortunately, despite being within close proximity to her building, walking the short 20 minutes to work was not a smart idea. Of course, showing up late from lunch and missing Ms. Morris' important meeting was not a good idea either.
Just as Angie turned to walk in the direction of the office, she saw the bus heading her way. Just a block away. It was now 12:50.
Squealing to a halt, the bus opened its according doors to several irritable oncoming passengers. Angie had a few choice words going through her head to spout at the driver, but before she stepped one foot on the bus's steps, an elderly woman with a floral-print jacket that went past her knees was already ranting in a raspy type of screech that resembled the bus's brakes.
"It's the 12:30 bus! Not the 12:50 bus! Public transportation is supposed to serve the public! I don't what has happened to punctuality nowadays, but you, young man need to take some lessons in manners!" The woman's frizzy, short, white curls were bouncing left to right as she chewed out the driver.
A middle-aged man, who reminded Angie of a haggard-looking George Lopez, sat behind the wheel. His hands looked calloused and dry as he adjusted his mirror and stared directly ahead of him as the older lady ranted. Angie never got a clear look of his face because he never turned to look at the oncoming passengers. He only gave a response when he saw the woman wasn't moving from her spot.
"Buses run late, lady." His deep monotonous voice echoed in his chest. "Traffic is unpredictable. If you don't like it, get a car. Now take a seat or get off of my bus." He never turned his gaze to look at the angry woman.
If Angie hadn't tapped the lady on the shoulder with an irritated, "Excuse me?" just as the driver was finishing his last sentence, the lady probably would have complained all day, never realizing the irony of her long-winded speech. The last thing Angie needed was further delays.
The doors squeaked closed behind Angie, while the irritated lady in front slowly shuffled her pink slippered feet to the back of the bus. Mumbled words like "unbelievable," and "disrespectful," were all Angie heard from the raspy voice in the back for her ten-minute ride to the office.
Keeping at the front of the bus, Angie stood up before the bus came to a complete stop. She wavered, nearly falling back in her seat as the wheels gave their finalized squeak. The doors flew open, and Angie hopped over the steps, running the last three blocks to the office as fast as her flats could take her.
Ten minutes ago she nearly cursed herself for going to her apartment for her flats in the first place, now she was thanking God that she was wearing them. No way could she have run to the office in heels.
Panting from her sprint, Angie reached the handle of the office building, peering in to see if she could see anyone around her desk.
No one to be seen. She looked at her watch – 1:05. They may already be in the meeting, she thought.
Clenching her jaw, she checked her reflection and gave a quick nod of approval at her shorter, yet still professional image. She swung open the glass door and snuck herself in. Lucky her flats did not click on the tiles the way her heels would have. No extra noise gave her late entrance away.
Angie went to the break room, removed an armful of bottles of water from the reserved fridge, and briskly strode over to the meeting room. Taking in a deep breath before she struggled to open the door with her free pinky, Angie entered the room to a very quiet group.
Glancing around, Angie noticed that two of the expected partners had not shown up yet. This gave Angie hope that her absence may not have been noticed.
She walked around the table, passing along the chilled water to each of the seated individuals.
Ms. Morris looked up at Angie from the file she was perusing over with Jaheed and said, "Oh, maybe you could come back with two more cold waters in a few minutes. Barry and Larsen are stuck in traffic, it seems." Morris' voice was low and serious, but Angie hoped her annoyance was with Barry and Larsen's lateness, not her own.
"Sure thing, Ms. Morris. Will you be waiting on them to start lunch, too?"
"Hmm?" Ms. Morris was obviously immersed in her file again since she did not raise her head to answer Angie.
"Oh, well, I don't think we're quite ready for lunch yet, anyway. We'll probably take our meals in about 10 minutes, with or without Barry and Larsen," she mumbled.
"No problem. I'll be back in ten, then," Angie answered in her sugary voice to try and offset the gloom that was lingering in the air. She was grateful to slip out of the room. It was thick with frustration in there, and Angie was looking forward to ten minutes alone to breathe and collect herself from the rushing around she just put herself through for a pair shoes. Shoes!
She controlled a laugh at herself for what she had just done. So much worry about what to put on her feet. Angie continued to shake her head as she gathered the lunches that had been pre-ordered from the restaurant down the street.
Lunch for half a dozen people wouldn't be so tricky if their meals weren't so elaborate. Larson's shrimp scampi with a side of garlic bread and carrot cake, or Jaheed's chowder soup bowl and seltzer water were the kinds of meals that gave Angie a reason to want an extra hand today. It was times like these that made Angie feel like more of a waitress than administrator. At least her flats wouldn't add to her balancing act as she carried a couple of trays in and out of the conference room.
---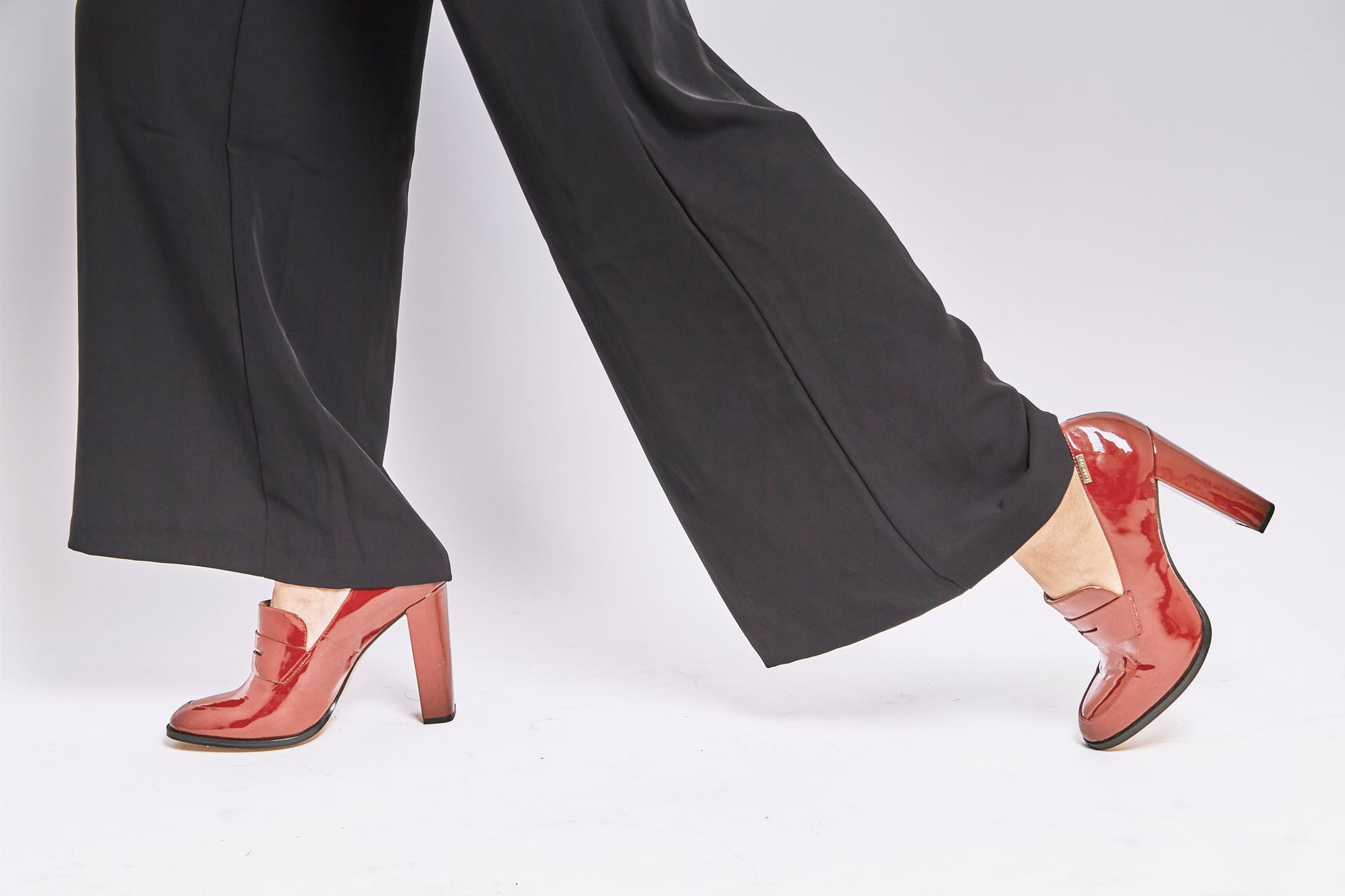 "Playing Footsie"
Sitting at her desk longer than 30 minutes, in quiet, was an abnormality in Angie's position.  It was nearing 2:00pm, and Ms. Morris had not called for her since lunch. All she could do was sigh with relief as she nibbled on some saltines alongside a cup of yogurt – the only things lying around in the break room without someone else's name on it. Although Angie appreciated the ability to relax and play some games of solitaire on her computer during these long meetings, she also had to deal with her habitual lack of food. It always happened on meetings days that she gets so caught in making sure that Ms. Morris has everything in order, including with his fancy lunches, that Angie inevitably forgets to pack herself something decent. If she was busy all day, she could forget about her hunger pangs. But, sitting at the desk with nothing to do but hear her stomach growl was another issue.
The smell of miscellaneous lunches still lingered in the air. As much as she would have loved to run across the street to get a bagel or muffin from the coffee shop, she knew she had tempted fate enough for one day. As soon as she exited the door, she could almost bet that Morris would be calling for her.
She tried to take comfort in the fact that her feet were not hurting for once. It was them, after all, why she had squandered her lunch time for a pair of comfort. Angie imagined coming to work every day in comfortable, but professional, flats. She was so proud of allowing herself to feel comfortable, despite what other people thought. Maybe she could always be this brave and just choose comfort over style from now.
Filled with excitement at the thought of having this revelation, Angie started to get goose bumps at the thought of it. Maybe she could have a whole new philosophy and policy in wearing shoes.
She started planning which shoe stores she should be hitting up for more comfortable work shoes, until her stomach began grumbling again.
The gurgling and burning could only be ignored for so long. Oh well. On the bright side, her empty stomach just gave her that much more to look forward to for tonight's dinner.
Daydreaming about flirting with Neil over a delectable meal, Angie sifted through her closet at home, imagining what she should wear for her date. A dress or a skirt? She did have that new fern green dress that had a casual, but made-up look that would allow her to feel comfortable and confident sitting across from those big green eyes. Her chocolate heels with leaflet straps would go nicely…
Her self-admiration did not last long as she started to think of her upcoming date. Neil was just over six feet tall, and he had never seen her in flats before.
Angie straightened in her chair at the thought of her heels. Ugh! She had just liberated herself at work from those things, but she could not imagine herself going on a date with tall Neil, staring into his chest instead of his eyes. They would always carry on their conversation with Angie raising her head just slightly at the downward tilt of his chin. Without her heels, looking straight in the eyes would be impossible.
She tried reasoning with herself; thinking how silly it was to worry over height. But, she couldn't stop herself from thinking of all the little conversations she would have with Neil in the break room, standing at the counter, near the water cooler… Neil has been looking at Angie with two-inch heels for the past three years. How could she change things now?
Angie's deep-rooted feelings of insecurity started to sprout leaves. All the questions she used to ask herself growing up were chanting in her head again.
What if Neil didn't like girls who made him crouch in for a kiss? What if Neil was suddenly thrown off by looking down at the top of her head?
And how was Angie going to feel when she craned her neck back like a baby bird being fed by its mother, just to look up at her date? How was she supposed to exude confidence, feeling like a little kid next to a giant?
Having so many pros for switching back to heels are what created images of Angie making another emergency dash to her apartment and back to swap shoes again. This was a date, after all, and she wanted to look her best and wearing flats was not exactly Angie's idea of appearing sexy.
Rubbing her heel with her fingertips as she imagined a romantic night of flirtatious smiles and batting eyelashes to a man who was worth ignoring her meal, Angie did not hear the footsteps coming alongside her desk.
"Hey, Ange!" Neil's smile sparkled with his big white teeth.
"Oh hey!" Angie jumped out of her imagination and back to reality.
Angie swiveled in her desk chair slightly, reaching down her calf to give her tender heel a little rub, she realized how unrealistic her idea was.
---
[blog_subscription_form]